What is Semi-Permanent Makeup?
Semi-permanent makeup is a technique where fine lines are scratched into the surface of the skin (0,001-0.003mm). It is makeup that is sweat and water proof, and will save you time in the morning. During the day there is no need for you to do any touch ups.
The perfect solution to having a dazzling look with or without makeup, it solves the problem of having to apply makeup in the morning without the worry of time and consistency. Normal color fading occurs in about 2 years. Yumi will revive and restore your original eyebrow giving you a natural look based on your facial features, color of eyes and hair.
Yumi will spend time during the consultation to review any concerns or questions you may have, your desired result, in her quest to achieve the best outcome and your satisfaction. Your safety is our highest priority, she uses all new sanitized and sterilized equipment for every application which is opened in front of you.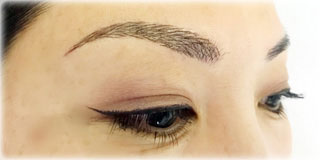 Semi-permanent makeup is the best solution if:
You have a difficult time drawing an even or perfect eyebrow then semi-permanent makeup is what you need, it is custom designed to you.
You have a hard time drawing perfect eyeliners.
You have less eyebrow due to age.
- Semi-permanent makeup is the answer to having your perfect eyebrow without the hassle of touching up makeup!
If you have bushy eyebrow and don't have the time or know how to trim or reshape it.
You don't feel confident without having to apply makeup in the morning.
You have little or no time for makeup in the morning. Save valuable time in the morning without having to apply makeup!
Your eyeliners smudge with the slightest touch, tears or sweat.
- Eyebrows imperfect and not consistent. Permanent makeup is sweat and waterproof. Perfect all the time when you go out, play sports, or go on a trip!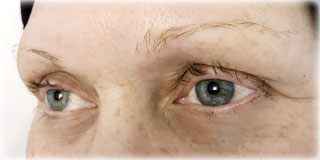 What type of semi-permanent makeup is available?
Eyebrows Regular
Yumi creates the most natural gradation using monochromatic color to achieve the best result to your desired look, normally within 2 visits.
Eyebrows 3D
If you have little to no eyebrow left, Yumi creates a three-dimensional effect using gradation layering giving the effect of more volume.
Eyeline
The monochromatic color is applied close to the root of the eyelashes to create a sharper definition allowing one to use little or no makeup to avoid smudging due to touch, tears or sweat.
Process of treatment
Appointment
Artmake Yumi is By Appointment Only. Please contact as soon as possible as schedule appointments fill quickly.
Please call for a free consultation prior to treatment.
For an appointment, please call Yumi at (808) 386-4914 or via the contact form on this website.
Free consultation
Yumi meets with you for a consultation meeting which normally takes about half an hour prior to your application visit.
Preparation
It is recommended that you have a proper amount of sleep as well as avoiding alcohol consumption before any application visit.
Lack of sleep and consumption of alcohol can inhibit the effectiveness of anesthesia (numbing cream) and cause swelling to the area to be worse.
Treatment
Decreasing pain level
To decrease the pain, Yumi applies numbing cream to the target area 20-30 minutes prior to starting treatment. A painkiller without aspirin is recommended to be taken one hour prior to treatment.
Hand-Curved Technique
A majority of cosmetic tattoo applied today uses a machine that rotates and vibrates the skin which gives the end result a flat look. Yumi focuses her attention to the fine details, applying the hand-curved technique without any use of a machine which does require more application time, though, the results are impressive giving more dimensional levels without the flat look.
After care
It is recommended after treatment, that the area be immediately iced down for the rest of the day.
For the next week use moisturizer (e.g. vaseline) to moisturize the area.
During this time, please avoid swimming, hot yoga, sauna or facial treatment.
Please do not hesitate to contact me with any questions you may have.
Touch-up
A follow-up touch-up visit is required 2 to 3 weeks after the initial treatment.
Allowing for additional customizing to your specific needs. (e.g. adjusting thickness or length)